The Perfect Celebration Guide
 BIRTHDAYS ARE THE BEST! I know everyone can agree to that, and if you can't, you need to come over so we can throw a celebration that will change your mind. I just want to start by saying that my best friends/roommates are the best people I could ever imagine in my life. They went above and beyond and had everything planned to a T. From Saturday morning through Sunday night I felt so loved. Everything in this blog are the material things that made my birthday wonderful, but what you really need to know is that my friends made this weekend unforgettable. Remember to not get so consumed in the material things because the memories of the event are what we have when it's all over. I am so excited for this post because celebrating people is so so fun and for this post, my friends were celebrating me!
​This is a long one though, so get settled and let's dive right in to the fun stuff.
Outfit of the Night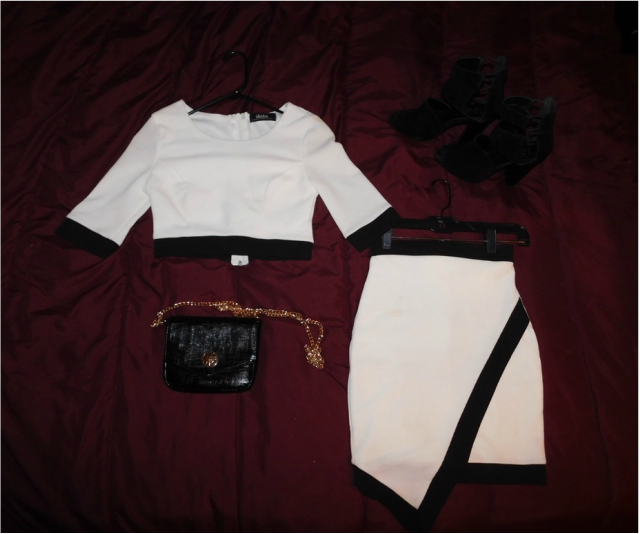 ​I know what you're already thinking…"you wore an all white outfit to the bars for the first time", but to be honest, this picture is from after the bars and it's still in tip top shape. I choose this set because I love the two-piece trend that is in right now and I really love black and white together. I think that this was a good mixture between classy and edgy which is everything I wanted in a birthday outfit. This set is from Lulus but I ordered it back in July because I was already on the hunt for a perfect outfit then hahahah. I found it in their sale section for $43 total. I paired it with my favorite pair of black suede chunky heels from Tobi. I also got these on sale for $20. Both websites have some higher priced clothing but also offer a variety of sales and promotions, so I check my emails from them frequently to get free shipping and other discounted prices. Another two piece set that would be perfect for a birthday is
here
. And another pair of shoes that are comfortable but still super chic and sexy are
here
.
​
Decorations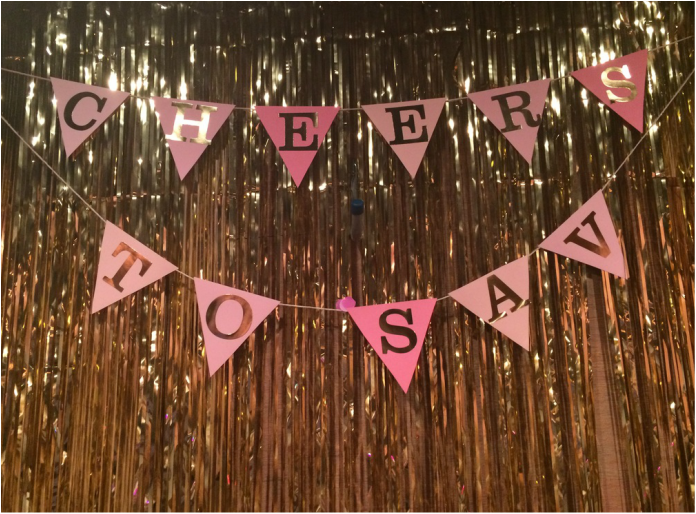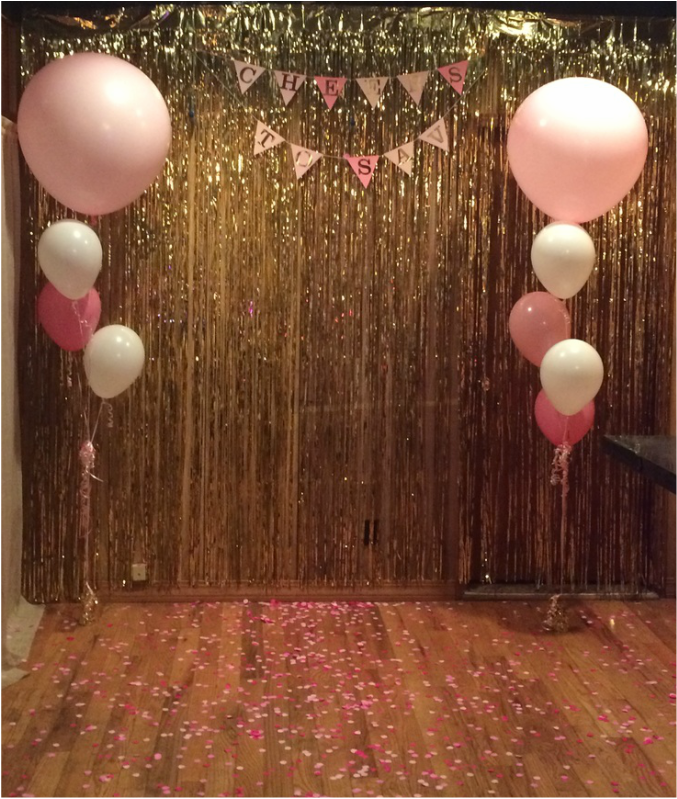 A few things you should know about me before we go any further… Anything that sparkles, speaks to my soul (my friends are going to kill me for saying that). But seriously, I just have a love for pretty things. So, they asked me the color scheme that I wanted (metallics & pale pink) and then they basically just went with it. The confetti was a good choice because it was really fun to throw around and it also made our floors look cuter. Party galaxy or any party store near you will have helium balloons and the gold shimmer background. Another hit for 21st birthdays are the "21" balloons. I had some of those too but we forgot to take a picture of them with the decorations. You'll see them in the fun pictures at the bottom of this post. The "Cheers to Sav" banner was made from pink paper and gold stickers from Hobby Lobby, and then was simply glued to a string and then hung up. Remember to use your 40% off one item at Hobby Lobby when you shop there, it's a life saver. (
Here is the coupon
).
Mimosa Bar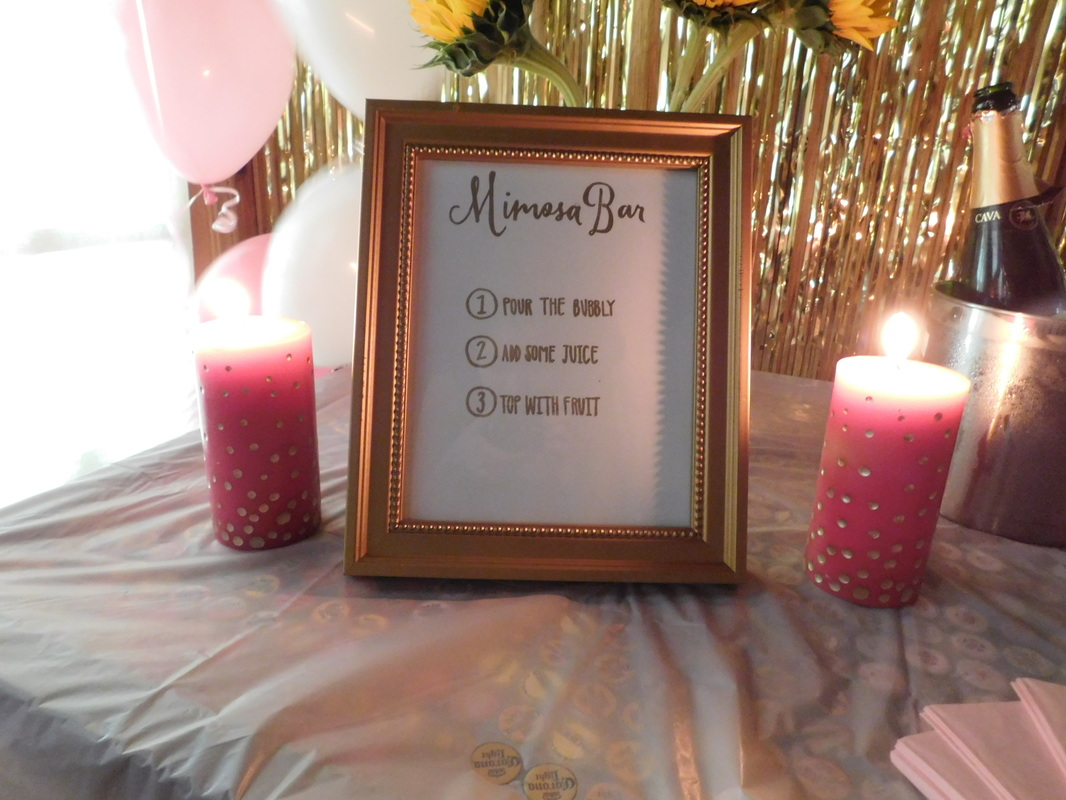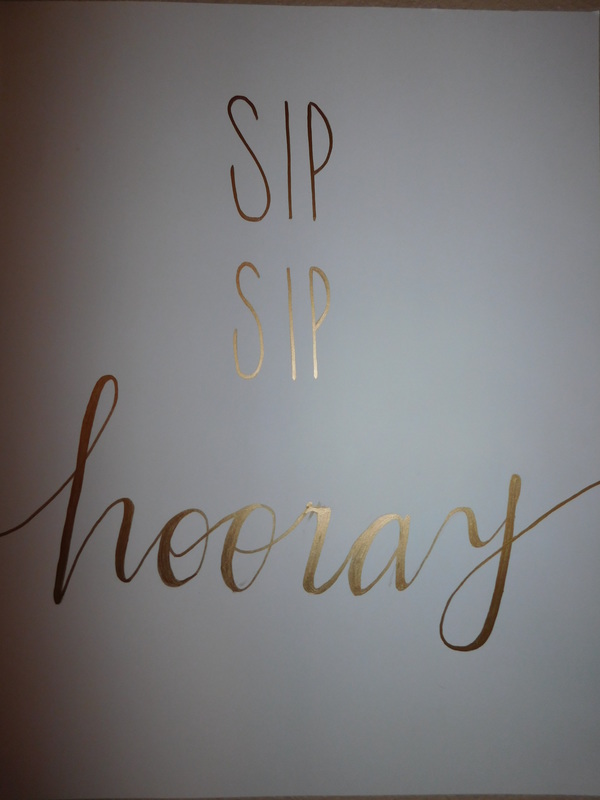 The mimosa/bubbly bar was definitely one of my favorite parts of my birthday weekend. My actual birthday was on Sunday, so I woke up to my roommates cooking
breakfast casserole
and
biscuits with gravy
, and the whole house decorated round 2. They knew that this was something I have been wanting to do because I talked about how fun and cute a mimosa bar would be on my actual birthday. They made it happen, and it was amazing. I got to spend time with my roommates and best friends the morning after I turned 21 and it was so special and fun. 
Things you need to plan your very own bubbly bar:
Champagne- we bought cheap bottles because we are broke college students
Orange juice- we had pineapple and mango flavored OJ and they mixed perfectly with the champagne
Plastic or glass flutes- the dollar store has them and so does Walmart
Fresh fruit- the different flavors of fruit added nicely to the drinks
A picture frame- to hold the instructions (this is just a fun extra)
​
​
Gift Giving Guide
I was blown away with the gifts I received from my friends for this special day! I am only sharing these because I think that they did so good with buying me presents and I wanted to share them with you in case you are ever in a pickle and need a suggestion on what to get your bestie.
Lululemon leggings and sports bras are probably every girls dream whether or not they workout because the quality of the clothing is unreal. These are kind of on the pricey side, but if you're willing to spend the money, these are both great ideas.
The style of the pants: Speed Tight IV. The style of the sports bra: Lighten Up Bra.
The necklace is Gorjana which can be found at Nordstrom from the personalized collection (obviously mine has an "S"). This is the perfect layering necklace.
The suede skirt pictured is not the exact one I received but all suede skirts are so cute. That one can be found at Forever21 or Belk.
Some other girly gift ideas for your bff: candles, a comfy over-sized sweater, a pair of shoes, simple jewelry, MAC lipstick, a cute PJ set, Quay sunglasses(I got the most BA pair, and then became so obsessed that I bought another pair [you'll see in fashion section soon])
​
Side note: I was given so many wonderful gifts from family and friends but I just picked a few to share! Thank you to everyone for making my weekend SO special. For those who were there for any part of the weekend, you have no idea how much happiness you brought me.